The Great Taste of Ranch Now with Less Sodium
The secret to happy students isn't a secret at all. Just offer the goodness of Foothill Farms® Ranch Dressing, now available in a reduced sodium variety. With about 160 mg of sodium per serving when prepared traditionally, Foothill Farms Ranch Dressing Mix with No MSG (#V402) has all the ranch flavor students love and can be offered for both tray line and Smart Snack options. It's economical too with less than 1¢ per serving, in addition to the cost of buttermilk and mayo. Add variety to your menu by mixing ranch with cilantro and lime or salt free chipotle powder. Or prepare with sour cream or Greek yogurt to keep the sodium content low without the use of buttermilk. The possibilities are endless with dry mixes from Foothill Farms.
Recipes:
Video on Ranch made traditionally with buttermilk and mayonnaise
Ranch made with sour cream
Ranch made with Greek yogurt
Ranch made with cilantro and lime
More Ranch recipes...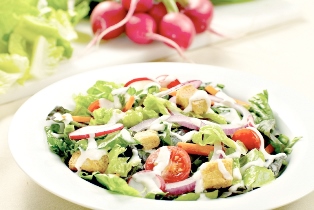 Foothill Farms Dressing Mix with No MSG is a Flavorwise™ labeled product. Learn more about our smart options for healthier living.